Church Recording for St. John the Baptist, Aston Ingham, Herefordshire (in the diocese of Hereford)
| | | |
| --- | --- | --- |
| Post Code HR9 7LS | Grid Ref. SO 683235 | Church Code 618222 |
The Doomsday Book lists Estune as having two hides of land (240 acres / 97 hectares). This land was granted by William 1 to William Fitz Osbern, newly created Earl of Hereford. He, in turn granted the tithes of Estune or Eston, to the Abbey of Cormeilles in his Normandy domains. These two facts indicate that there was a church here at that time but no records have been found that mention it specifically.
The oldest known incumbent was Nicholas de Coniwell, who was appointed in 1306. The land and church were eventually sold by the abbey to the Ingayn family, who followed the normal practice of that time and added their name. The village thus became Eston Ingayn and finally Aston Ingham.
Of the church building we have today, the oldest parts are the 12th century arch and west wall, with its square headed window, although they have been subsequently restored. The remains of two 13th century may be seen which were blocked when the three story tower was built within the church, against the west wall, during the 16th century.
The original church became more and more unsafe and was extensively restored at the end of the 19th century, giving us the church we have today. Some stone from the old church was refaced and reset, new stone came from two local quarries. The Bishop of Hereford held a service of re-dedication for the restored church on 11th August 1891, amid much festivity.
Deemed unsafe, after ringing in celebration of the end of World War II, the four existing bells were taken down, the peal was increased by the addition of two new treble bells and the six bells rehung with new fittings and framework. The total weight of the bells is 18 cwt. 2 qtrs. 18 lbs. (948 kg). On 28th April 1950, the bells were re-hallowed by the Bishop of Hereford. Wood taken from the old belfry was used to make a commemorative plaque.
The most notable item in the church is the 17th century lead font, one of only 18 such fonts in the country. It is dated 1689 and bears the initials W.M. with a raised pattern of leaves and scrolls. Also of note are two stone coffin lids of uncertain origin dated around 1300 which are set into the east wall on either side of the altar and a rough hewn stone stoup (probably medieval) in the porch.
In 1979, Aston Ingham was amalgamated with the adjoining parishes of Linton and Upton Bishop.
With acknowledgements to Margaret Watson, 'The History of Aston Ingham'.
Transcribed from the original text of the Record of Church Furnishings, commenced 1997 and completed 2000.
It is unfortunately not practical to display any examples from the record on the website because they were not recorded using digital photography.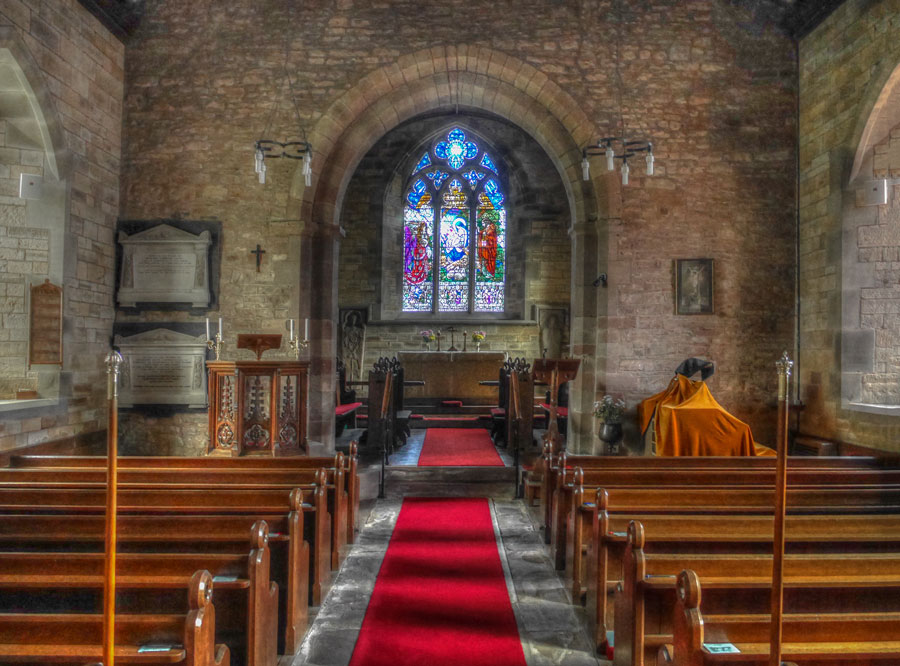 Interior looking East