Young Arts
The Arts Society Ross-on-Wye Young Arts aims to inspire young people and expand their horizons through involvement in creative arts activities. We aim to create awareness of our arts heritage and its conservation. We have worked with young people by sponsoring the following projects.
Project in 2015
Working with Hereford College of Art and the Hedgehog Festival in Ross-on-Wye, Ross DFAS have enabled a local ceramicist to run workshops at the Ryefield Childrens Centre, Ashfield Park Primary School and Brampton Abbots Primary School as part of their "Hedgehog Days".
The Hedgehog Festival is a wider local project aiming to promote the towns historic links with the hedgehog, facilitate creativity and promote conservation.



&nbsp: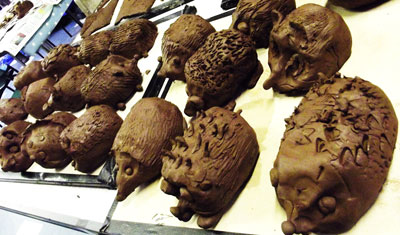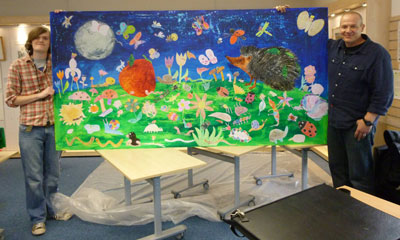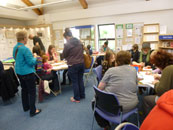 Project in 2014
On Saturday 10th May 2014, Petr Horacek co-created a sumptuously colourful 'Hedgehog in a Garden' mural with local children and parents in Ross-on-Wye, as part of the town's three week 'Celebration of the Hedgehog'.
Ross DFAS sponsored the event which was attended by more than 60 children and parents.
The mural will be mounted in a central location in the Library, and will be seen by all those who access the Library's facilities.
The hedgehog is the ancient town symbol of Ross-on-Wye and can be found in many historical buildings, family crests and churches in the town and surrounding villages.
Details from mural:


Project in 2013
Ross-on-Wye Sea Cadets were awarded from the Patricia Fay Memorial Fund a grant to be given the opportunity to receive hands on experience with film equipment to develop a DVD from their original project of a photographic competition based on a visit to the Cutty Sark in London.