Church Recording for St. Mary's Church, Foy, Herefordshire (in the diocese of Hereford)
| | | |
| --- | --- | --- |
| Post Code HR9 6QY | Grid Ref. SO 597283 | Church Code 618228 |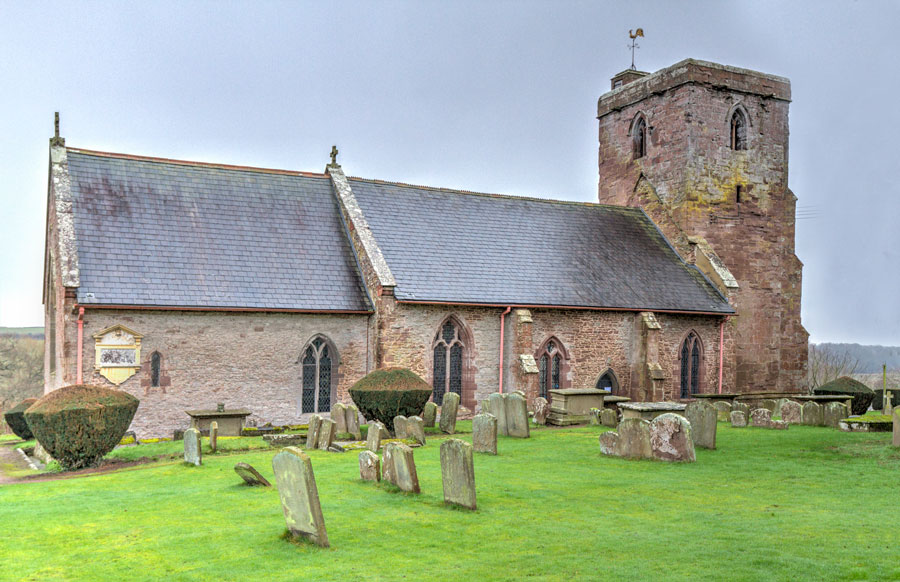 The parish church of St. Mary's, Foy is situated on the west bank of the River Wye approximately four miles up stream of Ross-on-Wye. Half of the parish is east of the River Wye around the hamlet of 'Hole in the Wall'.
The first church on the site may have been erected during the Dark Ages and little remains to be identified now. The church then was in the Welsh Cantref of Ergyng and was identified in the Book of Llandaff and referred to as "Lann Tiuoi". The Normans however changed the dedication to Saint Faith Foye and later to Saint Mary.
In the 13th century the church lay in the manor of Eaton Tregez. The old church was demolished and the nave, chancel, chancel arch and the north east window of the chancel were constructed in local red sandstone. In the early 14th century the south wall of the nave was rebuilt and the west tower, and south porch were added.
The large unusual decagonal font with a moulded base was constructed during the lated part of the century. Many fine examples of Ledger stones (floor memorials) are sited in the chancel and nave.
Major examples of 17th c. wood work were constructed including the pulpit, finely carved rood screen, communion rail and choir stalls which are still present. Much of the cost of this work from 1642 until 1937 was borne by Abrahall / Jones families as lords of the manor of Ingestone. Recently the Clive family of Perrystone Court, have supported the church.
Between 1852 and 1863 major restoration works were carried out under the supervision of the vicar Charles Wilton who preached in the parish for 61 years.
Transcribed from the original text of the Record of Church Furnishings, commenced 2009 and completed 2013.
Click here for a picture of the presentation of the Church Record and some examples of Report pages.
It is unfortunately not practical to display any more examples from the record on the website because they were not recorded using digital photography.
Interior looking East