Church Recording for St. Michael's Church, Hope Mansel, Herefordshire (in the diocese of Hereford)
| | | |
| --- | --- | --- |
| Post Code HR9 5TL | Grid Ref. SO 625196 | Church Code 618234 |
In the recording of St. Michael's, two spellings for 'Mansel (Mansell)' have been used according to the source of the information.
The early history of the Church in Hope Mansel is unknown but there is a reference in the Doomsday Book (1086) which states that a third of the Manor of 'Hope' lay in the Lands of St. Peter's Church of Gloucester (later Gloucester Cathedral). This document refers to the Church of Hopa Gingeric which it is assumed later became Hope Mansel.
The physical geography of St. Michael's has greatly influenced its evolution. Hope Mansel is situated on the edge of the royal forest – the Forest of Dean and even today this influence is much felt.
The church is built of the local stone – old red sandstone, and the oldest surviving part of the north wall of the nave which is possibly 12th century.
There have been many structural alterations over the centuries. The nave was widened, possibly in the 13th century, and the chancel was rebuilt and the scissor roof was installed in the 14th century. A porch was added in the 17th century and the west wall of the church was rebuilt in 1889. There was formerly a small west timber turret which was replaced by the present bellcote at around the same time.
After over a thousand years of Christian worship on the site, the church today is very much a focal point of the village and is part of everyday life. This is reflected in some of the furnishings in use in the church.
The Communion wafer box was formerly the property of a father of a parishioner, a distinguished soldier, who at some time used the box for his lunch. It had also accompanied him to the trenches during the First World War. Likewise the beautiful doubled over altar cloth started life as a bedspread. The processional cross was made by another parishioner and there are many items in the church which have been donated, perhaps as a 'holiday present'. These all add to the atmosphere of a cared for and much loved church.
In the recording of St. Michael's it was found that information was often known but not attributable. As this knowledge, passed down by word of mouth, ia almost certainly accurate, rather than risk losing it, we have in these cases recorded the source as either 'local knowledge' or from a named person.
The church as it stands and operates today, very much reflects the centuries of love and care given by this small rural community.
Transcribed from the original text of the Record of Church Furnishings, commenced 2006 and completed 2009.
It is unfortunately not practical to display any examples from the record on the website because they were not recorded using digital photography.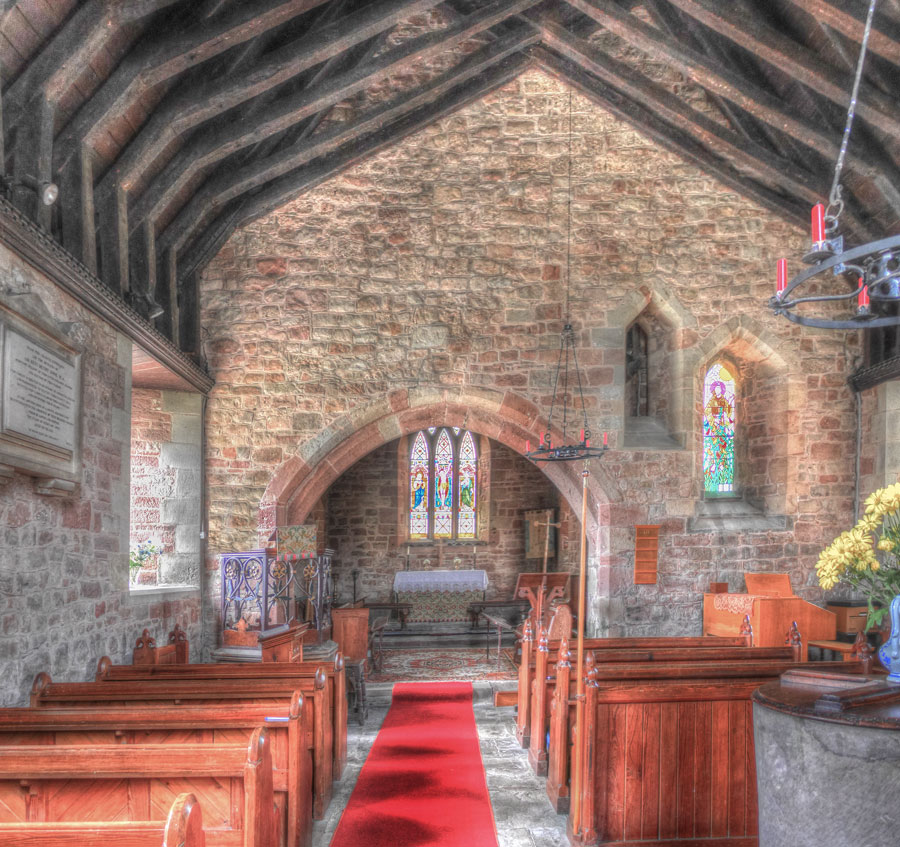 Interior looking East