Church Recorders Diary
16th October 2022
Putley Church
Presentation of the Record of Church Furnishings
Standing before the altar and reredos at Putley Church we held the presentation of their Record of Church Furnishings.
Left to right: Elaine Spalding Church Warden, Christopher Nicholson Church Recorder and Tim Beaumont Chair of the PCC.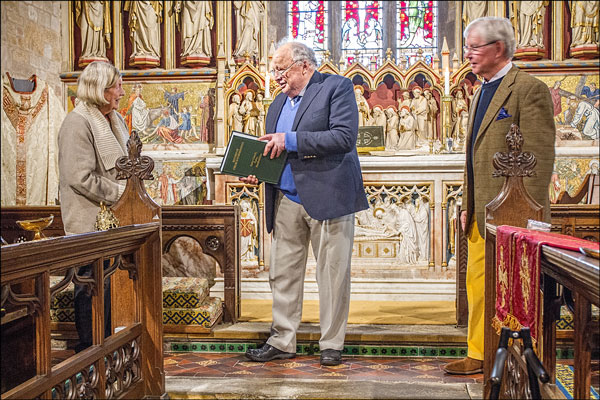 ---
9th October 2022
Little Birch Church
Presentation of the Record of Church Furnishings
We spent a delightful afternoon with the Rev. Mark Johnson and the congregation of St. Mary at their Harvest Festival Service, a service many of us had not attended since childhood. We were entertained by the guest speaker, The Venerable Derek Chedzey, Archdeacon of Hereford Cathedral, who was already very knowledgeable about Church Recording.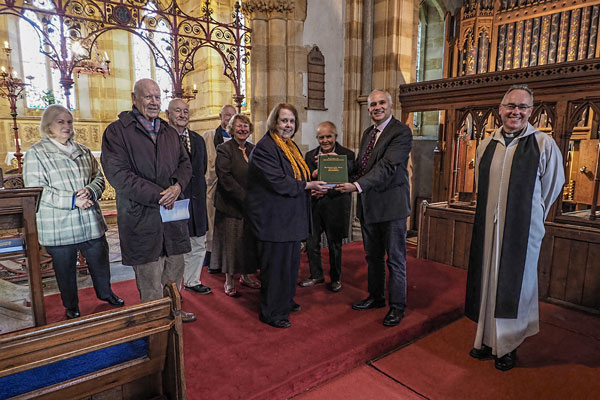 From left: Angela Bailey, John Kinross, Roger Irwin, Derek Chedzey, Lesley Gare, Elizabeth Maggs, Michael Hoddinott, and receiving their record James Gould, Churchwarden and Rev. Mark Johnson.
---
March 2020
Brenda Robbins Obituary
In fond memory of Brenda Robbins who died 24th March 2020 after a short illness. An active member of Ross DFAS she was a Church Recorder for many years, recording at a total of seven churches.
Brenda joined the team in 1998 at the Church of St. Tysilio, Sellack, first describing Windows. Her broad knowledge of churches enabled her to record Stonework and Miscellaneous but mostly concentrating on her love for stained glass windows, lastly at St. Junabuis, Llandinabo.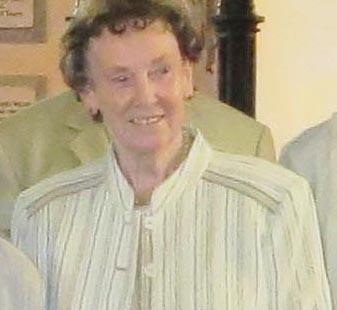 An accomplished Campanologist, Brenda was instrumental in re-establishing the bell ringing team at St. John the Baptist Church, Upton Bishop. As Tower Captain, Brenda would take the team on tour to ring-in services at other churches. Also involved at St. Mary's, Foy, where she was keen to form a group of hand bell ringers, utilizing Foy's fine collection of hand bells.
Brenda's other passion was her garden. A member of South Herefordshire Cottage Garden Society she went on to join the committee of the newly formed South Herefordshire Gardening Club, serving as Membership Secretary. She was also a member of Ross-on-Wye Ladies Probus '93.
She will be remembered as down to earth, articulate, possessed of a sharp mind and a welcoming smile.
---
December 2019
Putley Church
Putley's Record of Church Furnishings was completed in 2019, however due to Coronavirus restrictions we are temporarily unable to proceed with their Presentation ceremony.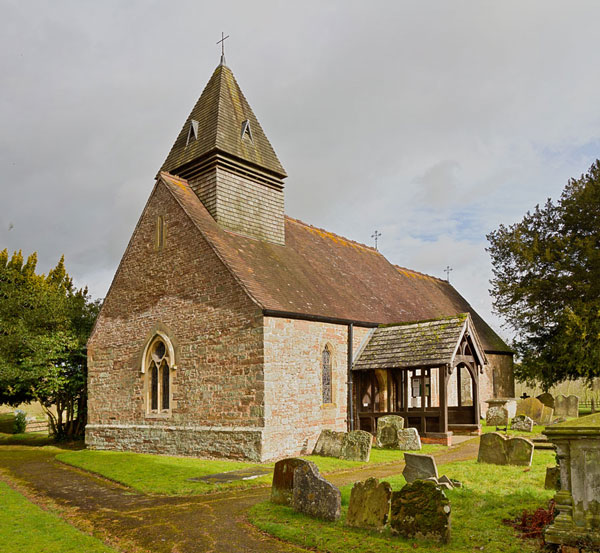 ---
6th June 2019
Putley Church
Visit of Diana Nutting, Chair, The Arts Society West Mercia Region to see Putley Churchyard Cross.
The Cross has been chosen to be added to the 'Fifty Treasures' book currently in production by West Mercia.
Seen here from the left: Diana Nutting (Chair West Mercia Region), Elinor Kelly (Chair Ross-on-Wye), Elizabeth Maggs (Church Recorder Leader)and Joanna Treble (Heritage Volunteers Secretary)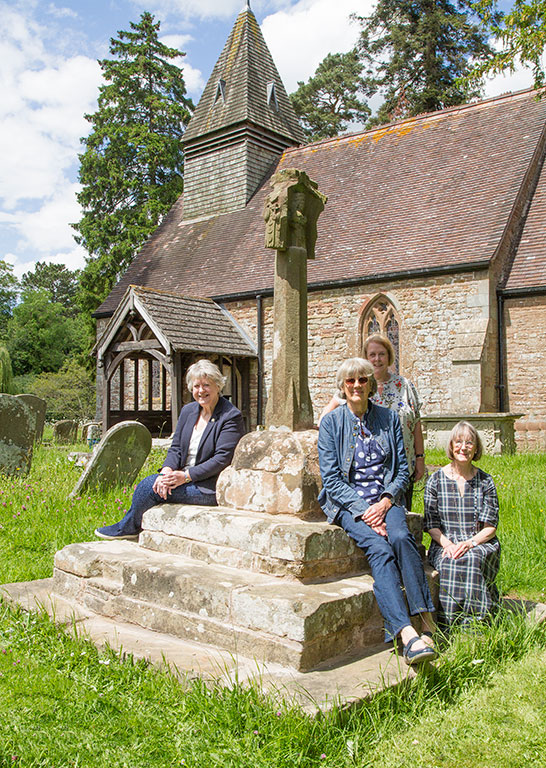 ---
26th October 2018
Putley Church
Discovery of Missing Stones
Tim Beaumont Chair Putley PCC and helpers expose four 'missing' ledger stones hidden beneath the South choir stalls since 1888. Church Recorders were on hand to record and photograph for Putley's record.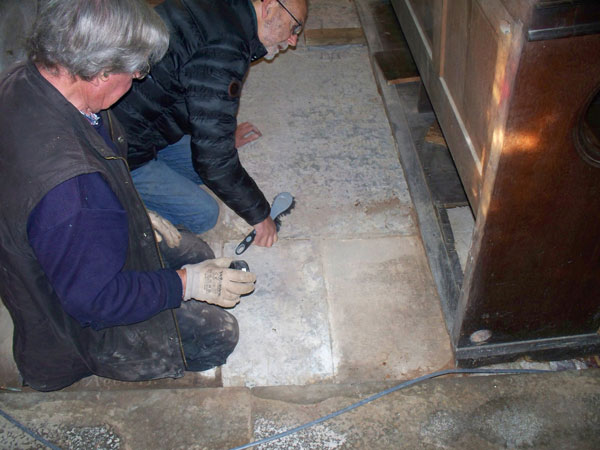 ---
27th May 2018
Llandinabo Church
Presentation of the Record of Church Furnishings
John Kinross, Church Recorder, presenting the Record of Church Furnishings to Jeremy Helme, Churchwarden, with Revd. Preb. Mark Johnson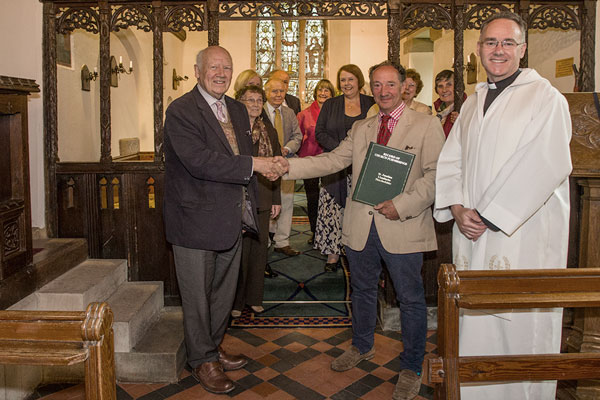 Back row: Christopher Nicholson, Jacy Kinross
Next row: Angela Bailey, Michael Hoddinott, Joanna Treble
Next row: Brenda Robbins, Elizabeth Maggs, Lesley Gare, Maureen Bolwell
Front row: John Kinross, Jeremy Helme, Revd. Preb. Mark Johnson
---
6th August 2017
Hereford Fair Stand
On Sunday, leaving Gloucester at 6 am I picked up Angela, Roger and Jane to brave the weather at Hereford's Cathedral Meadows for the Hereford Fair.
Our stall promoted Ross DFAS, Church Recorders and Heritage Volunteers.
We had a really good day, Jane was a woman on a mission as she handed out brochures to one and all.
Lots of interest in Recording, whether anyone will join us, we wait to see. The most important fact was we had a good laugh.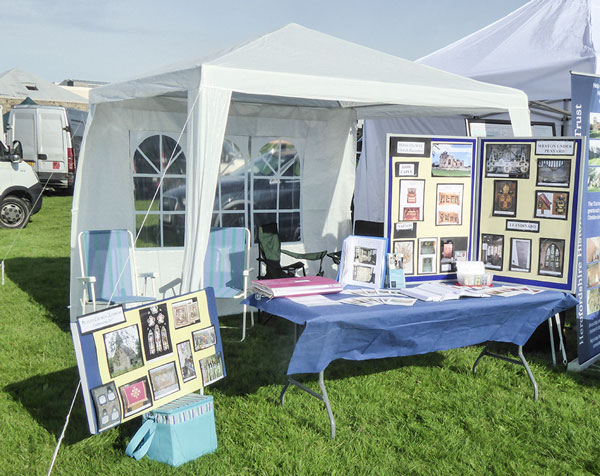 ---
2nd July 2017
All Saints Church, Yatton
Presentation of the Record of Church Furnishings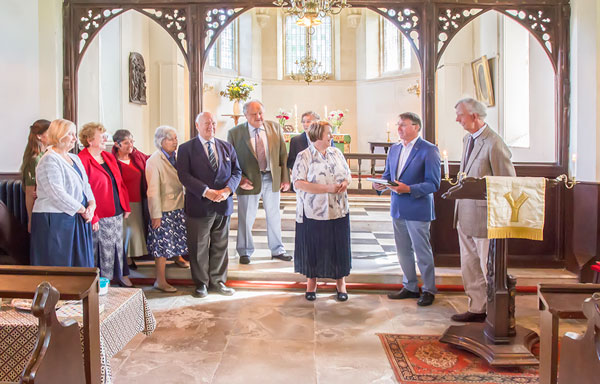 Back row: Mary Whitehorn, Angela Bailey, Lesley Gare, Maureen Bolwell, Jacy Kinross, John Kinross, Christopher Nicholson, Brenda Robbins
Front row: Elizabeth Maggs, Christopher Oulton and John Reed (Church Wardens)
---
21st May 2017
Church of St. Lawrence, Weston-under-Penyard
Presentation of the Record of Church Furnishings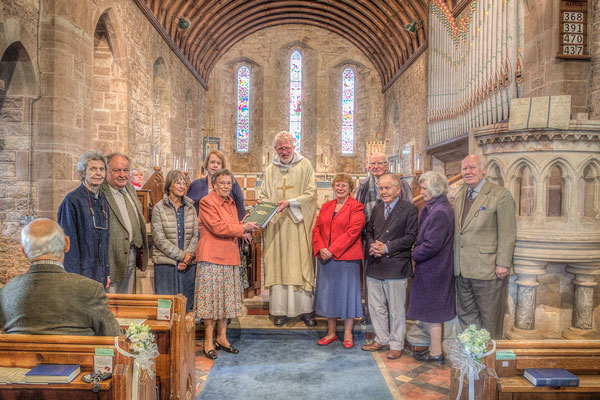 Brenda Edwards, Christopher Nicholson, Joanna Treble, Elizabeth Maggs, Brenda Robbins, Rev. David Howells, Lesley Gare, Ken Haynes, Michael Hoddinott, Jacy Kinross, John Kinross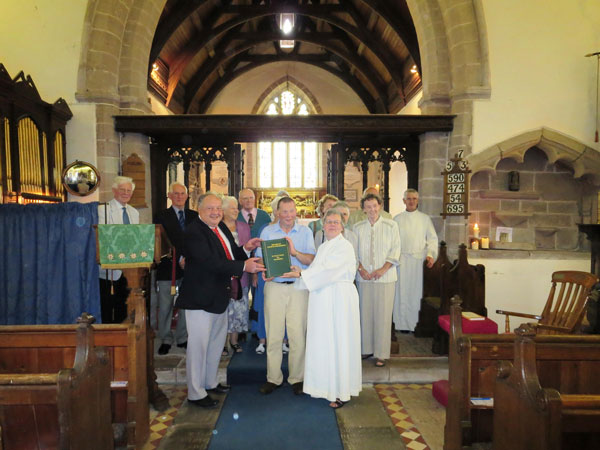 Ian Higton, Lyle Walker, Christopher Nicholson, Maureen Walker, Ken Haynes, Andrew Netting (Churchwarden), Jan Canovan, Revd Anne Knight (Vicar), Lesley Gare, Ann Hay, Brenda Robbins, John Kinross, Lay preacher